Cowgirl Soccer - Big 12 Champions!
The Cowgirls beat Nebraska Friday night in San Antonio in overtime. Very close game. Kristen drew the corner kick that allowed OSU to score, securing the win! Since OU upset the number one seated Texas A&M in overtime, OSU then played OU in the championship Sunday and won 5-4 in PKs - perfect ending to an exciting game! Hopefully, you tuned in to watch on FSN. This win earned the Cowgirls their 4th Big 12 Championship title, and Kristen was also selected to the Big 12 All Tournament Team as a midfielder.
Now the Cowgirls are gearing up for the NCAA Post Season Tournament. As a number 3 seed, they get to host for the 1st and 2nd rounds, and they will be playing Michigan in Stillwater on Friday night. Memphis and Oregon State will also play, and the two Friday winners will face off on Sunday.
What's for Dinner?
Since I'm working now, I haven't been wanting to cook when I come home - surprise, surprise. So, I went to Sam's last week looking for some easy dinners that I can just throw in the oven and serve. PF Cheng's now has pre-packaged meals that you heat up in the skillet that I thought we'd try. I cooked their orange chicken for lunch Saturday, and, well, it didn't go over so well with my eaters. My specific feedback: Brien asked that I please not buy that again.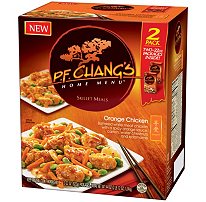 This General Tso's tempura white meat chicken with a zesty ginger and garlic sauce, on the other hand, is always a hit at my house and ready in just 18 minutes! It costs about $10 and just barely covers two meals for our family of five. I haven't ever eaten anything at a Chinese restaurant with the same flavor, so if you've had a General Tso's dish before, and didn't like it, I don't think this will be the same. It is REALLY good.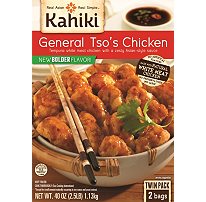 Of course, we can't ever go wrong with a classic Stouffer's lasagna either, but those take a little too long to cook. If you have any quick, easy and yummy family dinner ideas you'd like to share, I'm all ears!
Final Halloween Fun
I posted a picture of my favorite homemade family costume idea I ran across, so now I want to share my favorite store bought family costume idea - none other than the Wizard of Oz cast, played by the McLain family.
We met the Mclains through St. Pius, and Jodi was also the CPNP at our kids' pediatrician's office. Kenzie and Addi went to preschool together last year and became best friends, and as a result I got to know and love her mom, but this summer they moved to Houston. We were so sad to see them go. Kenzie and Addi are now pen pals, but Kenzie sure misses her bestie. I hope they'll get to spend some time together over the upcoming holidays.
And, finally, I couldn't resist showing you SkeleKENZ. Kenzie's preschool class made these projects for their Halloween carnival door decorating contest. Kenzie was so proud to point out her face on the door. What a neat idea. Her teachers are creative ladies.